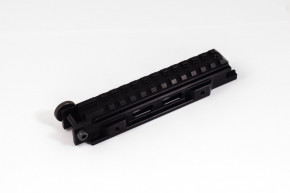 Advantages:
Very high resistance and stiffness of the front top rail system together with extremely low weight makes it suitable for professional use.
Modern and very compact design according to the requirements of professionals.
Possibility of easy integration of side rails including extended rails. This completely eliminates the need to purchase tactical front bottom handguards when three rails per gun.
The front top rail system has a solid side guides on the body of the weapon and thanks to perfectly keeps firing of mounted optical sights.
The upper rail has external size like STANAG 4694 standard therefore it provides maximum compatibility to clamping accessories.
Maximum compatibility to most of making front bottom handguard. Front top rail system Tactical Spirit Tri-mono for Vz.58 has the same width like Sa58 - 36mm.
Integrated and very practical air vents for quicker cooling of the barrel and flue gas exhaust from the piston.
Air vents are good even for operative lubrication and conservation of the gas piston end.
This can extend the necessary service intervals without the risk of the piston rusting or caking.
Made of mono block of 7075 T6 durable duralumin by CNC technology. (no casts) In short: The best available material machined by the best manufacturing technology!
Available in black color.

The price does not include a set of side rails.
Note: There is a low accuracy of the manufacturing of Sa58, sometimes is necessary to use professional adjustment of product contact surfaces. We recommended to use the services of the professional gunsmith. This will prevent potential problems and ensure long and reliable function of the product. The professionally installed Detonics product is protected by a factory lifetime warranty.